Ken Ahlering Art Collections
Shop for artwork from Ken Ahlering based on themed collections. Each image may be purchased as a canvas print, framed print, metal print, and more! Every purchase comes with a 30-day money-back guarantee.
About Ken Ahlering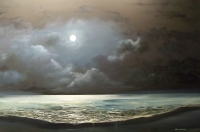 I'm Ken Ahlering and I paint realistic Images of America in oil..Mostly self-taught, I have been painting for over 60 years..Early on I became interested in fine art, always attracted to realistic drawings and oil paintings. I have never seemed to figure out what the "new" fads were all about, but respected the Old Masters, with their long tradition of knowledge, skills and effort. Their beautiful use of color, composition and light were what I wanted to emulate. I looked at paintings by the Dutch Landscape artists, the Hudson River School, American Western Artists.and the like for inspiration.Several neighbors,early teachers, and other influencers..names long since forgotten ...exposed me to the beauty of these works of art. I would never tire of looking at the great paintings of our past masters..American and European alike, but especially American.

I was was given a set of oil paints by my cousin Vivian, who thought perhaps that I could make better use of them. My first attempts; a Chevrolet auto, a local church and a portrait of an old man are long gone, but I can still picture them and remember the struggles to produce them.

But as things worked out, my interest in art had to take a backseat to the realities of everyday life. However behind it all, there still remained a love of fine art, fine paintings and the beauty of our American scene. From time to time I would take a night course in painting and try to sharpen my skills. Some teachers were helpful, some not, but I kept trying. I made paintings for gifts, and for my own personal pleasure. In the last 10-15 years however, I have found much more time to paint and have made a new beginning. When my pal Betty helped me discover that people were willing to pay for my paintings, I got a new sense of satisfaction that is hard to describe. Lately my life has become somewhat like a reality TV show..you know the type with the never ending deadlines..and happy tension..Shows and commisions, gallery demands and seasonal changes...all keep me hopping..

I really enjoy meeting the interesting people who love realistic fine arts, other fine artists, collectors and Gallery owners. I am thrilled by the fact that I am learning all the time..every painting. I want to improve on my style..painterly as I call it. Each painting is a reflection of my feelings, or what I prefer to be feeling: peaceful, serene and American..It is easy to see my sucesses and failures in a work, and you know if I made a mistake..no sloppy "impressionistic" work for me....I try to portray images that remind people of a place and time they can remember...I want my paintings to quiet a room, start a conversation and become family treasures for the future...Sort of "Oh this painting always hung in grandma's house" and perhaps create a friendly tussle over ownership.. ...." I specialize in American landscapes, seascapes, especially the Jersey shore and skiscapes of my favorite ski areas in Vermont..

My paintings are scattering around the country, overseas and recently The State Department commisioned a painting for the emabassy in Uzebeckistan..I am a member of the Art at the Embassies program of the US State department, The Southern Vermont Art Center in Manchester Vermont, The American Society of Marine Artists, and Oil Painters of America. I guess my art is not silly enough to win jury awards, but we win the important and satisfying ones like "peoples choice"

If you have a favorite photo of a landscape, seascape or ski scene you would like to see as a painting contact me at gmieken@earthlink.net and we can work out a deal...But in any event I hope you enjoy my work..